Sad news from Iain Airlie, as well as Corsham club Julia was very active with the County and the Region and officiating at events at all levels.
Iains letter.
It is not easy to know how to send this information, but I regret to have to inform you that my mother, Julia Airlie, lost her battle with cancer on the evening of Sunday 6th Sept 2020.
She died peacefully at home, with family present. The decline was very rapid: on the 5th August she was still fit enough to drive herself into London for a scan at the Royal Marsden.
Obviously the current pandemic restrictions make an open memorial service impossible.
There is an in-memorium site for her at https://juliaairlie.muchloved.com/ which you are welcome to browse and add any comments as a digital book of remembrance.
Since we (as a family) moved to Neston in 1974, and helped form the club, swimming (and Corsham ASC in particular) was a large part of my life until I left university.
It obviously remained a significant part of her life until her trip to China last year, and in many ways she felt a responsibility to stay and help guide the club through its recent difficulties.
It is my hope that the club will continue to thrive.
Her email address will continue to be valid for a while, as it is hosted via my domain, but the president address will need to be forwarded to somebody within the club that can
handle queries adequately.
Best of luck with the Club,
Stay safe,
Iain Airlie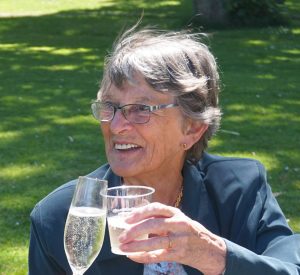 Funeral service is on Wednesday 16th September 2020. Family flowers only please.
Funeral service is on Wednesday 16th September 2020
Family flowers only please.
Julia's preferred charities were the RNLI, Macmillan and WellBoring.
Donations in memory of Julia can be made below to Macmillan Cancer Support and to RNLI and to WellBoring or can be made via the Funeral Directors:
Arthur C Towner Ltd, Audey House, 1 Albert Road, Bexhill-on-Sea, E Sussex, TN40 1DG (01424 733 700)
Julia:
The last presidents dinner in 2018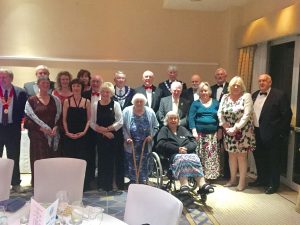 Marion Julia Burman, as she was christened, was born in London just before WW2, the second of three children of Eric and Iris. The family moved from Shooters Hill to Bexhill-on-Sea in 1949 shortly after the war, having purchased Southlands Court, previously a school requisitioned by the war office, which they turned into a hotel. After attending local schools, completing her education at Bexhill Grammar School for Girls, she went to work for the Admiralty Hydrographers Office at Herstmonceux Castle where she met her future husband Robert (Bob) Airlie. They were married at St Peter's (Bexhill Old Town) on 14th June 1958. Bob was both a civil and water engineer, working for what was then the Ministry of Public Buildings and Works (MPBW), whilst Julia focussed her attention on the home and family.

Married life commenced in Pinner, where Iain was born, with a move soon after to Plymouth, where Heather was born. Family life involved several moves following Bob around the country from Kent to Scotland and then Wiltshire. While Bob worked at Faslane (the Clyde Submarine Base), the family lived in Helensburgh where Julia volunteered with St Andrew's First Aid and helped at the local swimming club, as Iain and Heather learnt to swim. This was the start of Julia's involvement with swimming, and the Amateur Swimming Association, a hobby that became a passion and at times, almost a full time role until 2019.
From Faslane, Bob was posted to Bath and the family took up village life near Corsham, Wiltshire, where the Airlies were one of the founding families of Corsham ASC, which was to become a key part of Julia's life for many years. Beginning teaching swimming and a key member of the pool-side team, Julia developed her interests, skills and qualifications as a timekeeper, turn judge, style judge and eventually referee to her swimming portfolio. Over the years she served as Corsham club coach, coached at Millfield School and the University of Bath, became an international referee, and served terms as president of Wiltshire ASA in 1987 and the ASA Southwest Region in 2011. Julia was still helping referee at international galas around the UK in 2019. She was equally proud of the success of her club swimmers exceeding their expectations as she was of her Olympic swimmers.
Julia's endurance of the inevitable mobility expected of the MOD while Bob was working stood her in good stead for another chapter in her life when her three grandsons, became successful junior sailors, with regular visits to Weymouth needed for training. Bob & Julia provided the use of their garage in Wiltshire for storing a laden triple boat trailer, and Julia had a towbar fitted to her car to help transport boats and sailors to events. Many of the Scottish GBR Optimist Squad sailors had the occasional overnight stop at Corsham en route to training or competition. Sometimes Julia drove her car and boat trailer to the airport, meeting the arriving sailors and handing her car over for the weekend, returning home using her bus pass. The return trip was similar- she would take the bus to the airport and collect the car and trailer whilst the sailors and driver returned to Scotland.

When Julia took over her old family home in Bexhill, and the sailing took on an international flavour, many junior sailors enjoyed the hospitality of the Bexhill house on the way to European events: it was a handy stopping off point between Weymouth and the Dover ferries!

When Bob died, Julia's adventures took a new turn when she had a narrow boat built in 2010. This enabled her to split her time between Bexhill and Wiltshire providing her accommodation whilst supporting swimming events in Corsham and the region. Julia enjoyed river/canal life, changing her location on the canal every fortnight, negotiating the locks and engaging with fellow boaters along the way.
At 80 she was still happily driving her mini the length and breadth of the UK, refereeing at swimming events and visiting family. After a visit to China in 2019 she collapsed on return to Gatwick and was taken to Redhill Hospital where cancer was diagnosed. A course of chemotherapy was tried with limited success, but a follow-up course did not have the desired effect.

Her comment on waking up in Redhill after the Gatwick incident summed up her attitude: "I've had a good innings". Mother to Iain and Heather, Grandmother to Ewan, Drew and Callum, she will be missed by the many people whose lives she has touched.