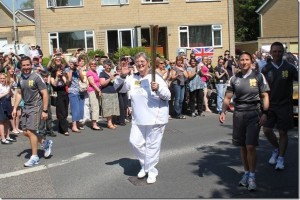 Jean Pitfield will be in Bradford on Avon, Masons Lane, at approximately 2.46 on Tuesday 22nd May.  She will be reporting to Clarendon School in Trowbridge at 12.00.
Caitlin Wosika age 12, from BOA is carrying the torch in Bitton, between Bristol and Bath at 17:04pm Tuesday 22nd.
Issy Collings is in Calne, on Wednesday 23rd May, starting on Curzon Street near Quarr Barton and running to Church Street, approx 10.48.   Issy has to report to Abbeyfield School Chippenham at 7.50 a.m.
Calne Alpha's Luke Shipway will be running from Nore Marsh Rd to Station Road, Royal Wootton Bassett at 12.36hrs, Luke reporting to Lime Kiln at 11.00hrs, Wednesday 23rd.
Swindon Dolphin's Secretary Sharon Woolford representing BMW Group UK, still waiting on final details.
Do we have any other bearers – please let us know, keep them coming.